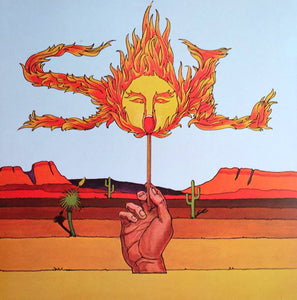 Mad About Records
Joe Gallardo & Sol - "Sol"
Regular price
$21.00
$0.00
Unit price
per
Tax included.
Shipping
calculated at checkout.
Legendary Texas Jazz Latin Soul
Mad About Records proudly presents "SOL"
Finally available one of the rarest LPs in Latin funk.
Hardcover sleeve, 180 gram
Limited hand numbered edition
Mad About Records is proud to present for the first time on vinyl a reissue of Joe Gallardo & Sol's "Sol", originally released in 1975.
"Sol" is a Latin-funk psych fuzz blaster that basically covers all the realms of rare record collecting in one shot. There's the funk fuzz blaster "Maranatha" or the Ray Barretto Latin jazz groove cut "El Que Se Fue" with freaky synth blasts, the Texas easy funk moves of "Squeeze," which remind one of Steam Heat, or the lounged-out soul rendition of Stevie Wonder's classic "Bird Of Beauty." Something for everyone and impossibly rare!

Latin Jazz has always been present in Gallardo career. His first big break came in the late sixties, when Luis Gasca, a trumpeter from Houston, Texas, invites him to play the trombone on his first album "Little Giant" on Atlantic Records. During this production, Joe Gallardo made contact for the first time with great Latin jazz musicians such as Mongo Santamaria, Mark Levine and Julio Collazo, side by side with jazz giants like Herbie Hancock, Joe Henderson, Richard Davies and Bernard Purdie. That time was fundamental for Joe Gallardo, who never stopped playing and recording.
(MAR 18)
---